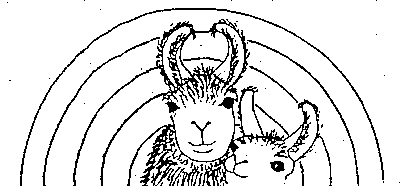 RAINBOW RIDGE LLAMA RANCH
Nina Pedersen and Kate Roach wish you a warm welcome to RAINBOW RIDGE LLAMA RANCH. The RAINBOW RIDGE LLAMA RANCH dream started when Nina was born. From as long as she can remember, Nina's dream was to live in the country and to have her own ranch. It was also to be a veterinarian, but that's another story. It took quite a few years into adulthood before her dream could be realized. Kate, on the other hand, grew up in Philadelphia which is a far cry from life in the country. Kate had never been around any large animals, but once introduced, she readily discovered llamas to be peaceful and gentle animals, and easy to work with. In 1993, Nina and Kate purchased an existing horse ranch already equipped with a 2800 sq/ft barn, outbuildings, riding arena (which is now set up with an obstacle course), round pen, lots of cross fencing…and beautiful, lush, green pastures. They started with one bred adult female and one juvenile female. Before long, between crias being born and purchases from other llama ranches, the ranch was alive with their new llama family. It has been a dream come true. In their ranch family, they have Delaney, an Australian Cattle Dog mix, Cody, the barn cat and the chickens who roam free during the day scratching and pecking.
Nina (a Physical Therapist) and Kate (a Registered Nurse) work in careers off the ranch and value every minute spent on the ranch with their llamas. The pressures and high stress levels melt away watching the llamas pronk and play in the pastures and enjoying relaxing hikes in the hillsides and along the coast with their llamas.
One hour north of San Francisco, in the west Petaluma countryside, resides their happy healthy herd of llamas on RAINBOW RIDGE LLAMA RANCH. They live in one of the most beautiful and magical places on earth. RAINBOW RIDGE LLAMA RANCH has a kaleidoscope of high quality North American and South American llamas, suri, light to heavy wool, pets, packers, show quality and grand champion llamas. At Rainbow Ridge, their llamas are their family and are treated with the utmost respect and provided with only the best of care. They are dedicated to a program that promotes the best health, nutrition, herd and pasture management possible. They are active in many llama related activities, committees / boards, and organizations: Alpaca and Llama Show Association (ALSA), California Chapter of International Llama Association (CAL-ILA), International Llama Association (ILA), International Lama Registry (ILR), Llama Association of Southern California (LASC), Llama Association of North America (LANA), and Llamas of the Wine Country. All their llamas are registered with the ILR. They take pride in showing their llamas at fairs, parades, ALSA and ILR shows and sharing their love of llamas with others. There are many scenic hiking spots in the Bay Area where they can share the day with the llamas and other llama lovers. Llamas reach into your heart and souls and leave you with a warmth and bliss that is unmatched by anything else. If you want to include llamas in your life and family, come visit Nina and Kate and experience the fun, the magic and the beauty of llamas!
Click on the picture to view in a larger format. Click on the back button of your browser to return to this page.
Our first cria, Mardi Gras
Bay Area Map

Rainbow Ridge Llama Ranch is an hour north of San Francisco. Why not include a vacation to the Bay Area in your holiday plans?
Please contact us for further information:

RAINBOW RIDGE LLAMA RANCH
Nina Pedersen and Kate Roach
426 King Road
Petaluma, CA 94952
707-769-7370
email:llamas@rainbowridgellamaranch.com
---
Web Master bill@billswebb.com
Copyright © 1995 [Rainbow Ridge Llama Ranch]. All rights reserved.
Revised: 08/09/10